TANZANIA – DAS AUTHENTISCHE AFRIKA
Tanzania ist wohl eines der bekanntesten und beliebtesten Safari Ziele kombiniert mit erholsamen Strandtagen auf Zanzibar.
Ein Land das bald drei Mal so groß ist wie Deutschland und einer Einwohnerzahl, die fast nur die Hälfte der Deutschen beträgt, verspricht ein 'wildes' Erlebnis. Man findet hier nicht nur den größten Berg Afrikas, den Kilimanjaro (5895m), sondern auch die weltweit einzige Caldera mit einem solch artenreichen Tierbestand, der Ngorongoro Krater, an dessen Kraterrand eine Gedenktafel an den Forscher Bernhard Grzimek und seinen Sohn Michael erinnert.
Bekannt durch zahlreiche Filme, ist die Serengeti wohl die die stärkste assoziation zu dem Wort 'Safari'. Ein Nationalpark, geschaffen um das Naturspektakel, die 'Great-Migration', zu schützen.
Doch das Land der Maasai hat noch viel mehr zu bieten, wie das größte Game Reserve Afrikas, das Selous, oder die Chimpansen im Gombe Nationalpark – noch eher unerschlossene Ziele dieses fantastischen Landes.
Angrenzend an den Indischen Ozean bietet Tanzania zudem auch echte Traumstrände und die spannende, kulturreiche und bunte Küstenstadt Dar es Salaam.
REISEVORSCHLÄGE FÜR TANZANIA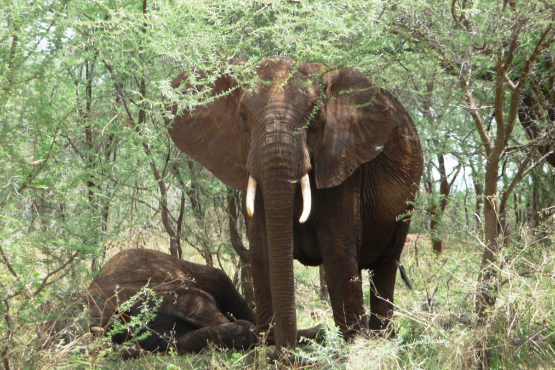 NORTHERN CIRCUIT
8 Tage / 7 Nächte – Privat-Safari im 4×4 Landcruiser mit Englisch sprechendem Driver-Guide
Baobab-Bäume und Elefanten im Tarangire Nationalpark
'Baumlöwen' im Lake Manyara Nationalpark
Die größte ungeflutete und ungebrochene Caldera der Welt – das Naturwunder Ngorongoro
Die große Tierwanderung in den Weiten der Serengeti
Verlängerung auf Zanzibar auf Anfrage
Internationale Flüge auf Anfrage
BUSH AND BEACH
4 Nächte Bush / 4 Nächte Beach
Erleben Sie die authentische Wildnis und Safari pur in 'The Retreat' im Selous Game Reserve und Entspannen Sie in der traumhaften 'Villa Nyangumi', gelegen an den unberührten Stränden der Südküste von Tanzania.
Inklusive Flüge Dar es Salaam – Sumbazi (Selous) – Dar es Salaam, allen Transfers, 4 Nächte Fully Inclusive Game Packe in The Retreat, 4 Nächte Halbpension (exklusive Getränke) in der Villa Nyangumi.
Internationale Flüge auf Anfrage
Bitte beachtet, dass zum 01. Juli 2016 die Aufhebung der Steuerbefreiung für touristische Leistungen in Tanzania bekannt gegeben wurde. Dies bedeutet für Leistungen wie Nationalparkgebühren, Transfers, Unterbringung etc. eine Preissteigerung von ca. 18%. Im Zuge dessen sind einige Nationalpark Gebühren ebenfalls angehoben worden.
Falls sich die Gesetzeslage wieder ändern sollte und diese Entscheidung von der Regierung rückgängig gemacht wird, werden wir euch natürlich unverzüglich informieren und den Reisepreis betroffener Buchungen entsprechend anpassen.
Impressionen aus Tanzania